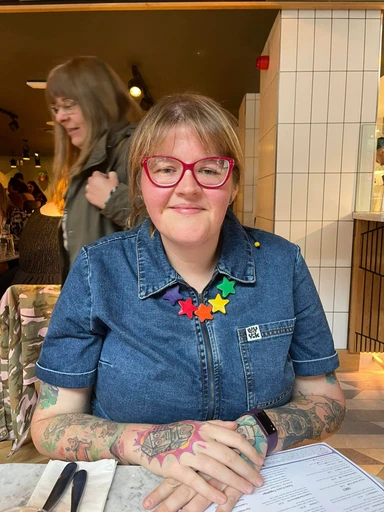 Here's some facts about me:
30 -call centre trainer
heavily tattooed (60+)
favourite all time film - Fifth Element. Other favourites include; Independence Day, in time, Jurassic Park, Day After Tomorrow, Signs, 2012, Children of Men -My friends know me for my love of dinosaurs; any cute cartoony dinosaur or jurassic park emblazoned stuff -I have a thing for highland cows and bees too -My favourite brands for clothing are Hellbunny (4XL/ 22), Lucy Locket Loves (20), Jambats (2XL), Run & Fly (2XL), Lucy & Yak (20/22) and Cakeworthy (2XL) -no piercings currently - all have long since healed up (including my ears)
music - only really listen to occasionally radio top 40 or old songs from Miley, Cyrus James Arthur. Or going back Hoosiers/ Zutons. -avid lover of crocs! UK Ladies size 10 (I have black/red/green/pastel tye dye/ grey/ black checked/ lime and black lite riders) would be happy with any colour or style (PINK ESPECIALLY) - you can usually pick them up around the £20 mark on amazon
interests- I like shopping, scrolling endlessly through reddit, gaming (Rust/ Apex Legends/ Fortnite mainly)
Love shopping/ gift giving, my favourite part of the process is the gift wrapping and I like to make it pretty!
love a flavoured instant coffee (littles is my favourite brand) -I love charity shops
king size bedding
size 20 ish, uk size 9-10 in shoes
lover of pretty dresses
I like fun practical things; think tongs shaped as ducks, lamps shaped as dinosaurs -As an easy option I love BIG mugs -Not a fan of Disney but love old school cartoons like rugrats - I would love a reptar t shirt!
I am mad for a voucher code and a BARGAIN!

My gifting style is usually to buy fun/ unusual stuff. I like to buy from small businesses/ etsy when I can afford to!

Not afraid to receive 2nd hand, so if you find a bargain you think I'd love in a charity shop, on vinted, on ebay ETC don't be afraid to get me it. I love clothes :)

Insta - ward.Tyler.megan / meggimagna

;